Saturday April 9th  9:00am – 5:00pm
Eric will assemble the participants at his studio at 309 4th Street #108 Oakland, CA. He will begin with a brief overview of the equipment and techniques used in the digital architectural photography. Then, the group will walk a couple of blocks to Old Oakland to take some shots of this historic district. The class will return to the studio at approximately 3pm to go over the day's results and make the digital adjustments in Lightroom and Photoshop.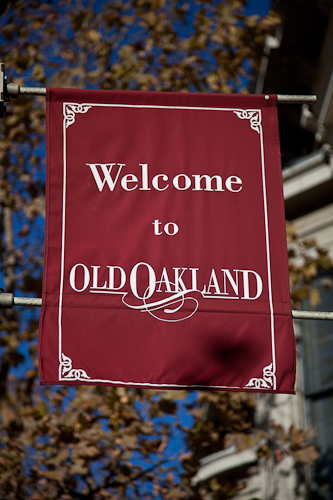 ©Eric Sahlin
The Old Oakland district was the "original" downtown Oakland during the 1860s after the Central Pacific Railroad constructed a terminus on 7th Street. By the 1870s, elegant brick Victorian hotels were being built in the blocks surrounding the railroad station to accommodate travelers. The ground floors of the hotels were designed as series of narrow shops so that pedestrians would pass by many of them just walking down the block. The architectural styles of the time featured tall, cast-iron columns and large plate-glass windows.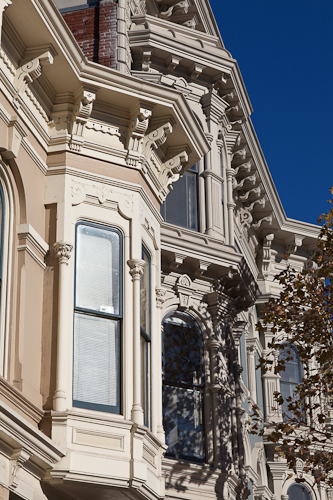 ©Eric Sahlin
The downtown began its decline after the 1906 San Francisco earthquake, when the shopping district began moving to the blocks north of 14th. In the 1980s, developers carefully rehabilitated and restored a block along 9th Street between Washington Street and Broadway, known as "Victorian Row". Notable structures on Victorian Row include the 1878 Nicholl Block building.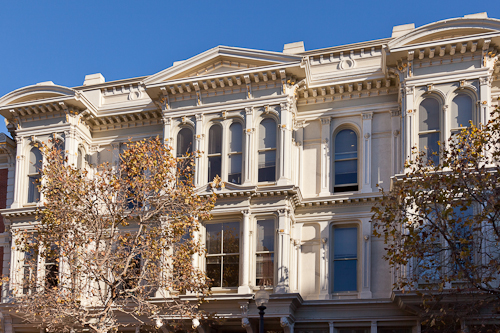 ©Eric Sahlin
This course will concentrate on exteriors only. It's quite frequent to be given an assignment to shoot the exterior of buildings in a crowded location without shutting down the block.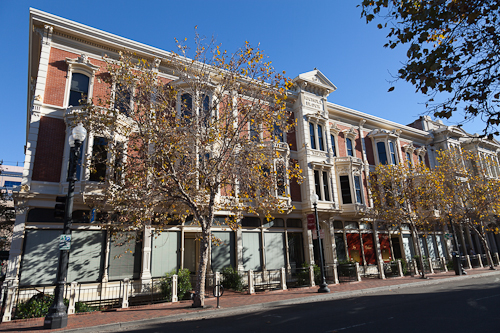 It is possible in the digital age to come away with images that fulfill the client's expectations even when conditions are not optimal – which is, of course, more often than not the norm.
Compare the image above and below…..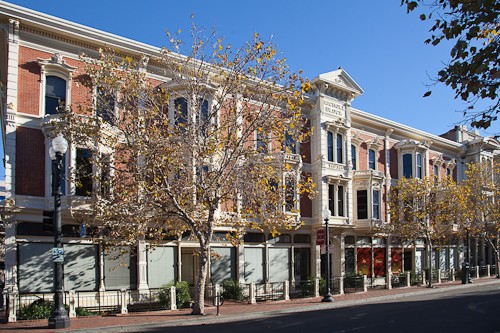 ©Eric Sahlin
The instruction will cover architectural compositional basics, HDR for controlling the contrast ratios, digital distortion and perspective control, use of Shadow Highlight or Fill controls, White Balance, and digital dodging and burning. It will also cover other types of photography that you can get while you are waiting for that darn rotation of the planet.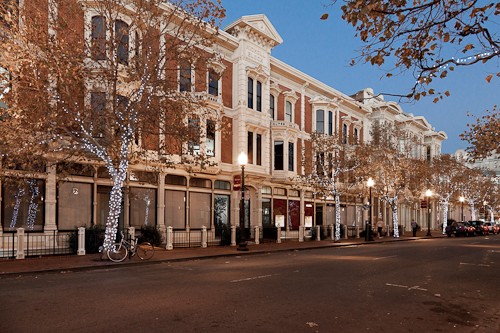 ©Eric Sahlin
Please bring your cameras with all the lenses you have. Please also feel free to bring your laptop to work on your images.
Eric's studio is located at: 309 4th Street #108 Oakland, CA
This 9 hour class costs $150.00. If you would like to learn more or to register for this fun-filled workshop, please call our toll-free line at 1.877.372.2231 begin_of_the_skype_highlighting 1.877.372.2231 end_of_the_skype_highlighting or log on to www.DigitalPhotoAcademy.com.
Eric teaches many classes for DPA. Be sure to touch base with him or visit the DPA site to learn more about them.