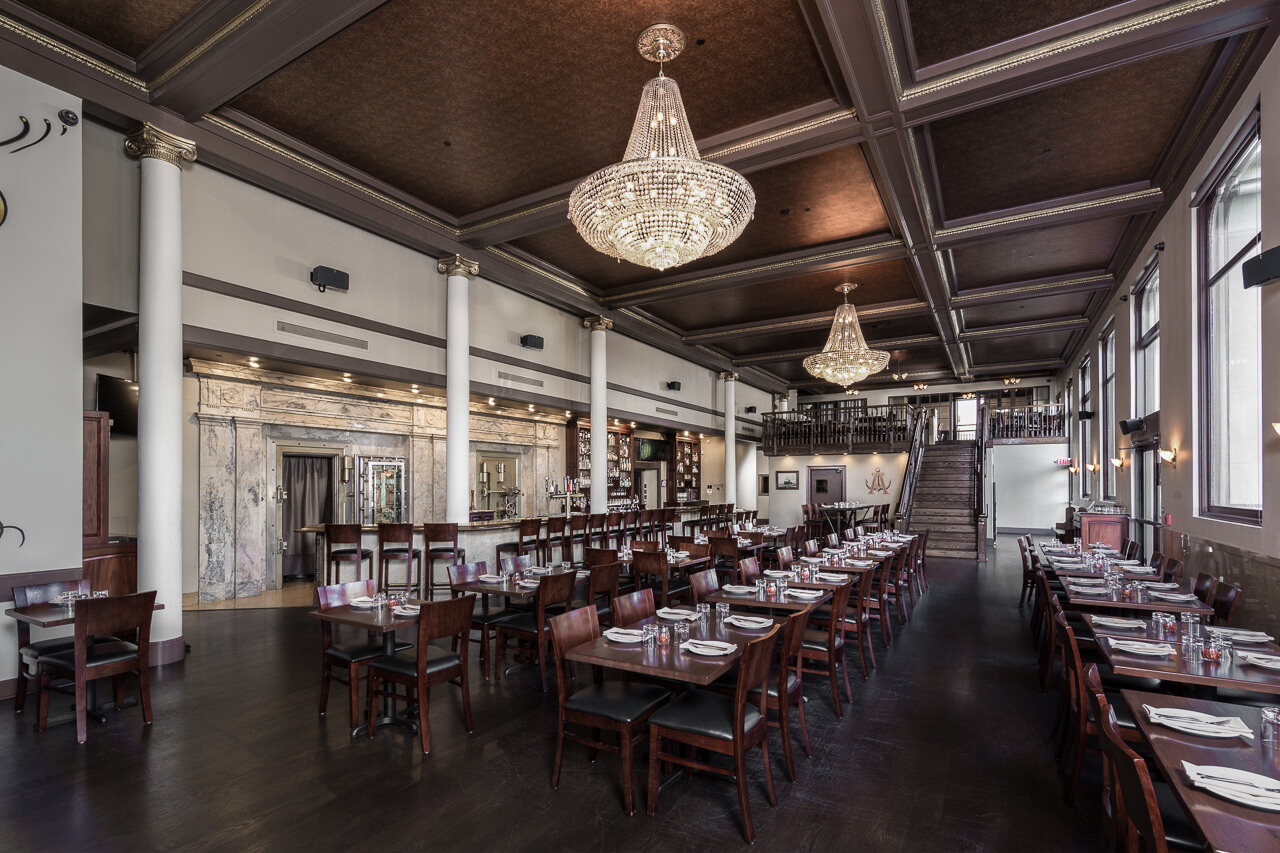 Under the heading of unusual restaurant venues, Star Pizza chose to take over an old bank building in Alameda to open their latest location. Truth be told they were not the first to start a restaurant there. Before Star took it over the previous tenant embraced the bank theme by opening a restaurant called Capone's Speakeasy which closed within a few short years. We all hope Star will have better success and if their deep dish, Chicago style pizza is any indication, they will do very well.
The building presented a few challenges for my client architect: Stephen Elbert. It is a historic building and therefore much of the exterior could not be changed without going through an extensive design review. In addition, as it was a bank with a few old-style reinforced vaults, gutting the interior would have been an enormous and immensely expensive task. In fact, they did have to cut through one of those two-foot, reinforced concrete walls to make the kitchen more usable. That task took a team of professionals from Southern California a complete day. But fortunately, the owners embraced the bank theme and even found that the vaults became a convenient place to store their impressive wine and liquor collection.
For me, the challenges were how to light a very tall, very long, open space filled with light sucking dark-wood paneling. The only way was to set up a bank of Dynalite strobes at the entrance to get a general light on the space, then take a strobe out into the space illuminating sections of the interior that were too distant to be illuminated by the Dynas (curse you inverse square law). Move the light to another area and take another frame. Eventually, I used 6 frames to create this one interior carefully painting myself and the lamp out of the shot and blending it with the others. Digital photography makes this technique not only possible but reasonably easy to do.
Stephen, in his dry sense of humor, reminded me that this technique was not new and had been used in the pre-digital age. However, it did involve the photographer dressing in a total black suit and constantly moving as to not resolve on an incredibly long shutter speed. I was happy enough to do this in my current photog uniform of a tee shirt, shorts, and white tennis shoes😉