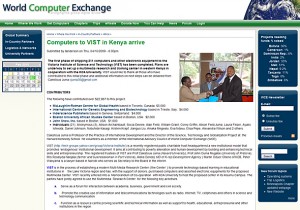 I arrived at the airport in Boston three hours in advance of the flight to London with a connection to Nairobi. I got there earlier than normal to meet my partner, Bryan Barton, for the multimedia lab project in Kisumu, Kenya. I had talked to Bryan by phone and email but had not met in person. He was a tall, sturdy, 20 something from the suburbs south of Boston. Although, he punctuated every sentence with a prolonged "uhh…" in person, he was quite bright, amazingly dedicated and extremely accommodating. He had already been on two previous trips for the World Computer Exchange to Nigeria and South Africa.
Bryan works for a small secondary academy called Milton as head of the A/V department. However, his real interest is in acoustic design and lugged a ponderously large and heavy manual on the subject on board the plane. But the coup de gras was that Bryan had taken it upon himself to solicit for and schlep three giant suitcases filled with out of date but functional computer components for our project in Kenya. I will never again be dismissive of his generation as uncommitted.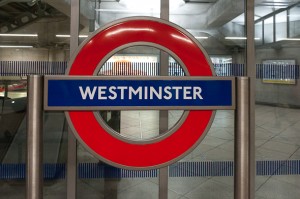 We had great bulkhead seats aboard the British Airways 747 –many thanks to the humanitarian booking work of the WCE. However, our good fortune was soon diminished by an announcement from the cockpit that a part needed replacement on the aircraft and that it may take up to three hours to get it. Two and a half sweltering hours later (because they can't run the A/C with the engines off) they finally announced that we could finally depart. They said they'd try to make up time in the air and probably did so but we arrived just in time to see our connecting flight to depart the tarmac. BA could only offer an odious alternative by traveling down to Johannesburg then back to Nairobi that evening. Although that would have been a boon to the frequent flyer miles, we declined the 15.5 hour road burn. The only other option was to layover at Heathrow and catch the same flight -a day late. To BA's credit they provided hotel accommodations, meals, shuttle vouchers and even a little overnight kit consisting of little lotions, shampoos, etc that looked like the first class accoutrement.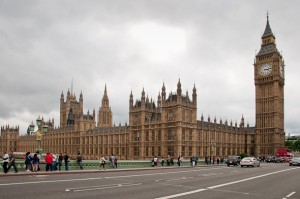 After settling into the hotel, we decided that we'd never have a less expensive stay in London and although it wasn't a great day, why not travel down to Westminster for a couple of hours? We navigated the Tube down Piccadilly to the District line and up at the foot of Big Ben. Despite the on and off rain, it was packed with tourists. The walk across Westminster Bridge was akin to a salmon swimming upstream. I had never seen such crowds in Europe before and none of them had English accents. Although we took the cheapest path to the city it still worked out to almost $25 each including shuttles to and from the airport. I don't know how anyone affords that city.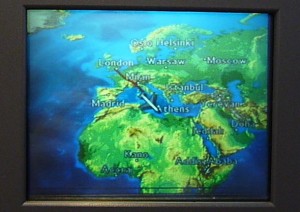 We get on board the next day's flight and our bulkhead seats are gone of course but we're happy to be on our way. We got all the way out to the runway when we got the announcement from the cockpit that there was a problem with the cargo and had to return to the gate. An hour and a half later they announced that it had been remedied and that they would try to make up time in the air…again. At least they kept the A/C running.
We got to Nairobi an hour and a half late and our host had gone home. Bryan purchased a cell phone at the airport and we called the host from the airport and he said just take a taxi to the YMCA. We began to make arrangements with a far too large group of Kenyans for that. He called back a few seconds later and said but make sure you get a "good" taxi. All of a sudden we started feeling a little uneasy about the group we were dealing with but they were very good at moving us along the path of hiring them. We were beat and the airport was nearly empty at 11:30pm. Fortunately the actual driver was small and very friendly so we took the chance and he turned out to be a great guy. We got to the "Y" and there's no reservations and the rest of the team had already departed for their assignments. We got a room anyway and it wasn't bad. Bryan had brought his BA overnight kit which I was amazed he could fit into his already stuffed suitcase.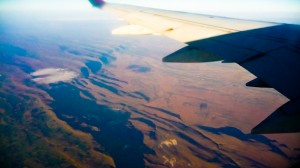 Five hours later at 5:45am we had to return to the airport for our flight from Nairobi to Kisumu. Thomas, our driver from the night before, came back for us and we made great time back to the airport. We never heard from our host in Nairobi but left the three bags of donations for him to deliver to Kisumu, overland. They have severe weight restrictions on Kenya Air and I had to check my bag that had my cameras in it. The sleep deprivation and ravenous hunger overcame my fear of their demise and to KA's credit they did seal the bags with a numbered plastic tie. The flight covered the 800km in a smooth, 45 minute jet flight and we got a great view of Kenya as dawn beaks upon it. The easiest features to identify was the wide, gapping, gash of the Rift Valley and Mount Kenya popping through the low clouds.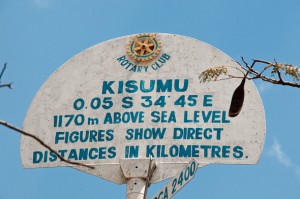 Our host in Kenya in Kisumu was far more accommodating than the one in Nairobi. Although our apartment wasn't ready yet, he insisted on paying for another hotel for the evening. Tomorrow we will have the contracted housing and can start the project. Fortunately, I'm done traveling; at least for the next three weeks…the crowd goes wild…